Princess Aminatu
Posted by UCN Team | 3,957 views
By Ronald Kayima ~ A comic Entitled "The Great Warrior Princess Aminatu" ~ "On Horseback She hastes across the desolate land with god-like speed.. the sound of hooves striking violently against the hard rocky surface echoes … like a one woman army she storms the subterranean village of Eshu.."
Ronald has been selected to be a part of a network of 6 Ugandan Comic Book Artists to contribute to a First Edition of Uganda's Comic Art Feature. We are proud of him and we hope you are too. Kindly show your support by posting encouragement and feedback to his work.
Register here to receive your free copy: http://www.ugandacartoonnetwork.com/register-3/
Flip Through Volume 1 of the Uganda Comic Art & Animation Expose featuring Princess Aminatu ~ http://www.ugandacartoonnetwork.com/uganda-comic-art-animation-expose/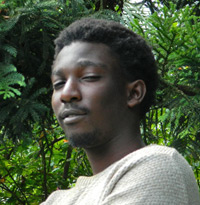 Ronald Kayima's Bio
I was Born on the 10th of August 1986 and for as long I can remember I have always been intrigued by all things artistic. I remember the first thing I ever tried to seriously draw was a picture of Bob Marley that my cousin had drawn. I got so jealous that he was that good and started drawing with a passion to be better ever since that day. Read a couple of comic books and always searched for any type of art that I could learn. I eventually found myself obsessed with interpretive art in high school and only practiced cartooning at my own leisure. After high school during my break I attempted my very first comic book and named it "Sunjata".
I have drawn comics ever since that day and I am constantly looking to create stories that amaze and entertain.
Aminatu is actually a character from my original story "Sunjata" and also an actual African warrior of great legend.
I hope you enjoy the extraordinary adventures of "The Great Warrior Princess Aminatu".

Check out more Humura Brian's Work in the Gallery Below: