UGA-BOT Design challenge
Posted by UCN Team | 8,111 views
UGA-BOT CHALLENGE IS ON!! You have Until September 15th, 2013 to Design a Ugandan Scrap Robot Warrior: Sketch, Model, Texture, Rig, Animate and Render a 30 Second Clip of your Own Ugandan Style Robot. Winner takes all!! 1,000,000/- Ugandan Shilling Prize up for Grabs.
Winner takes all!!  1,000,000/-  Ugandan Shilling Prize up for Grabs.
The Goal is to re-purpose old junk cars, boda bodas, old buses, trains; and show how they can be recycled to serve a purpose in Ugandan Society, it can be Education, Military, Civic, Environemental etc.
Winning Entry will be featured on the WBS TV, Morning Flavor Show, in Uganda and on the Uganda Cartoon Network Website. All the Entries Must be Original, and the creation Steps documented, right from the Sketch to Final Render. A Special Thanks to Lydia and the WBS TV team for Sponsoring this Challenge and Availing to us the TV Time. Visit the WBS TV Facebook Page and show your support at: https://www.facebook.com/WbsTvUganda
Register at this Page and Indicate that you are participating, you will then be assigned a page that you can use to create your UGA-BOT.
Register for UGA-BOT Challenge at this link: http://www.ugandacartoonnetwork.com/register-3/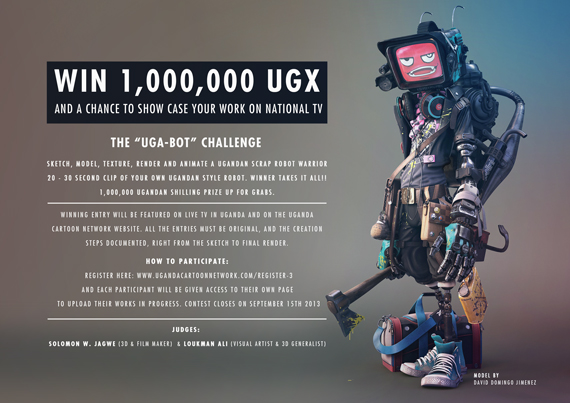 Here are some reference Photos to spur your imagination and to get you started on your Junk recycling creation.