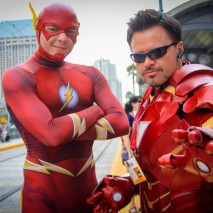 San Diego Comic-Con 2014, Photos & Highlights
Posted by UCN Team | 2,356 views
San Diego Comic-Con, the annual comic Festival, took place from July 23-27, 2014. Here are some awesome photos and highlights from the experience, ranging from super heroes to movie fan shout outs. I couldn't help but notice that the culture has somewhat changed from a convention that used to be purely about Comic related features, to now featuring movies and not so much about comic books.
Hollywood came out to play for sure, There were Lots of stars walking around, either to promote their next big movie role, or simply mingle.
The fans though, still came out, and dressed up as their favorite comic or movie character. Recently there have been more Movies based on comic books from the Archives of DC Comics and Marvel, so I guess the movie take over was practically inevitable. I still wish for a more extended feature of comic art and writers.
We are working on having our own Comic Con African Style. So watch this space

Special thanks to https://www.facebook.com/656Photography for allowing us to use his photos.