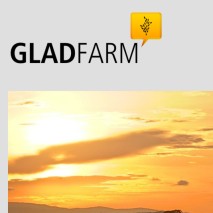 Job ~ Logo ~ Illustration, Call for entries by GLADFARM
Posted by UCN Team | 586 views
Dear designers, I'm contacting you because I am looking for a designer/artist/illustrator to help draw the logo for a new brand GLADfarm are hoping to launch soon.
GLADfarm is a farming enterprise that has been in agriculture here in Uganda since 2010. We have now moved into coffee, and I am in charge of developing what will become our own coffee brand. This is what we need this new logo for.
After some work and deliberation, I'm starting to get a pretty clear vision of how I want this logo to be and most importantly: what I want it to express. I won't go into details now, but let's just say I'm not looking for a typically modern, minimalistic logo, but something more elaborate and artistic… A design that is supposed to fuse our human side with our wild side…
This is what we are looking to do, and how I imagine the process:
1. We are inviting a small selection of designers to turn in rough sketches for the logo design.
2. We will choose one designer to continue working with, down the road towards the final, perfect design.
If this sounds interesting, please contact me with some information about who you are and preferably some samples/links to works online that you have done. I will send you a design brief that expresses what we are looking for, and the brand we are creating. After having taken a look at this you may decide to participate, or not.
Please also inform what you want as fee for the first sketch(es).
Regarding step 2, we will discuss the fee with the designer we choose for the full assignment.
Looking forward to hearing from you.
Endre Vestvik
Chief Marketing Officer
endre.vestvik@gladfarm.com
+ 256 773 680 965
+ 47 95 87 87 27
www.gladfarm.com